Posted by
Ann

| Posted in Food Chatter | Posted on 11-07-2009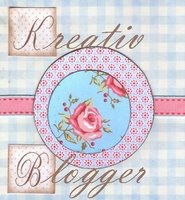 Awww, how nice, I'm feeling so warm and fuzzy right now.  Thank you Hannah Banana aka Amanada at Nourish for nominating my blog for this lovely award!  Check out her site, it's fantastic- lots of good, kreativ healthy stuff AND giveaways over there as well!
So here is what I am to do:
Thank the person who has given me the award
Copy the logo and place it on my blog
Link to the person who has nominated me for the award
Name 7 things about myself that people might find interesting
Nominate 7 Kreativ Bloggers
Post links to the 7 blogs I nominate
Leave a comment on each of the blogs to let them know they have been nominated
7 possibly interesting facts about me:
I love to travel and my family has a house in Fanna, Italy where my dad grew up.  I wish I spoke Italian, I brush up on it each time I go there and get better little by little.  The food there is just amazing and I'm so happy for online translating so that I can read the Italian food blogs:)
I was afraid to work professionally with food and health because I didn't want to get sick of it and have it feel like a chore so I majored in college in International Business and Spanish and went on to get my Masters in Business Administration at Creighton figuring I could use my business in any field I chose in the future.  Well…I was half-right.  But, I should've gone with my heart in the first place.  That darn reasoning right brain kicks in too often.
I speak Spanish after studying for a bit in Queretaro, Mexico and Valencia, Spain - used to be mostly fluent but have lost quite a bit of it.  Every time we go back to Mexico, I suprisingly regain much of it!
I live in Omaha, Nebraska and love it!  It's actually a lot more progressive than most people realize.  I don't think it's really a fantastic vacation spot, but a wonderful place to live and have your family.  That's why I love traveling as well!
I love music.  I've always been into music but more of a closet-love.  My latest favorite since October is Bon Iver.  Any suggestions for new good stuff?  I've been listening also to older stuff again, can't get enough of Little Willy by Sweet, Rock Me Gently by Andy Kim and Love Grows by Edison Lighthouse.  But, it is time for me to move on so I could really use some new ideas please.
Top Chef and True Blood are two of my favorite TV shows.
I'm kind of a crazy movie buff as well, constantly being reminded of movies by things people say.  Even stupid stuff from 80's movies when I was a kid from movies that not many have seen, like: Top Secret, Labrynth, Stewardess School, The Hunk, The Dark Crystal and of course all the popular ones too!  Maybe Stewardess School really wasn't that funny, but I used to think it was hilarious and am suprised that they haven't made it into a DVD.  Typically, my older brothers are the only ones in on old quotes from these movies.  Sigh.
Now I get to nominate 7 blogs I think deserve it, so I went with different ones I don't have already linked anywhere.  That's really difficult actually, since there are so many and I sometimes lose the good ones in cyberspace.