This is so easy, why do I need a recipe?  It's more of a tip than a recipe!   For years I've pre-chopped ingredients to put in salads or eggs in the morning (or whatever really) - and it takes up so much time and then it can go bad if you don't use it within a few days.  My heart sinks when I throw out unused pre-chopped vegetables.  There's money and time down the drain.  Also, my toddler wakes up easily to me cooking or chopping things during his naps, and he wants my attention almost full-time when he's awake.  So, it's hard to figure out sometimes how to make anything good…fast!  He is a great stirrer, and so baking is easy, but cooking with eggs and chopping up vegetables is more of a challenge. 
Here's the most simple way to add some good-for-you southwestern veggies to your eggs in a jiffy.  Buy a bag of frozen southwest vegetables!  Maybe you didn't know they existed!  I didn't until after I had my son.  I would've made this for myself much more often had I just looked in the frozen vegetable aisle at the grocery store!  I've made this same exact blend of ingredients numerous times but this is so much easier and I wish I would've noticed or someone would've told me before.  In this case, the veggies are Birds Eye C&W Southwestern Blend pictured below.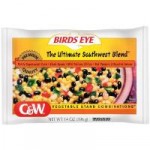 Directions for one person scramble:
Pre-heat pan to medium-high heat, spray no-stick spray or add some butter, depending on how light you feel like going that day
Add about 1/4 cup of frozen southwest vegetables to the pan, fry until onions start browning
add 3 or 4 egg whites (I use organic), turn off heat and scramble until cooked-through.   Use 2 whole eggs if you feel like adding the extra nutrition the egg yolks provide and don't mind the extra calories that day.  It's still pretty light.  I make it both ways.  Lately my pants are a little tight so I made it with egg whites this time.
Add a few dashes of salt and pepper
Throw on a little shredded cheese - in this case above, I used some natural mild cheddar.
Plate and add salsa if desired.
It's really so easy and fast that you don't really have an excuse not to make it.  It's also verrry delicious!  One of my husband's favorites when I healthy-up his breakfasts.