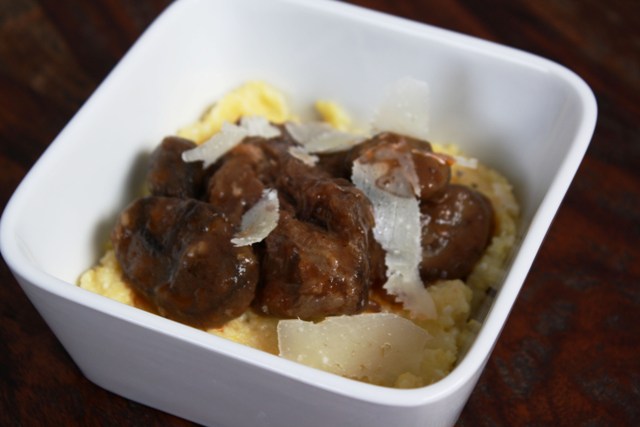 Anytime I'm either in Italy or at an authentic Italian restaurant with meat and gravy over polenta (either roast or rabbit), my mouth instantly waters and I want to order it!  Luckily, either my Dad or husband always orders it, so I can try something else equally delicious and we can all share.  During our Vegas trip last month - one restaurant has a fantastic appetizer portion of rabbit and gravy over polenta and I've been thinking about it ever since.
Because I have a freezer in our garage full of cow, I decided to go ahead and throw this together.  I'm sooo glad that I did since we loved it and I know what I will be doing with a few more of those roasts in the freezer!  As a kid, I didn't like the traditional American style roast with potatos and carrots.  I like it now but still prefer the Italian style most days.  I made it with extra liquids on purpose for some leftover gravy to share over more fresh polenta!
If you've read this post, Easy Purple Polenta Meal , then you'll know my son finds purple foods intriguing and will eat it.  I would've made this with purple polenta but unfortunately, I couldn't find the Bob's Red Mill blue cornmeal this time!  That resulted in my son not eating this when I know he would have had the polenta been purple!  Urggghhhh!  Next time I see it, I'm buying a few of them.
Ingredients:
3 shallots, diced
2 cloves garlic, smashed
2 TB olive oil
1 TB butter
5 lbs bone-in chuck roast (or whatever roast you have on hand)
6 oz tomato paste
1 1/2 cups beef broth (less if you want less gravy)
1 cup dry red wine (I used a Chianti)
1/2 tsp dried oregano
1/2 tsp dried basil
16 oz mushrooms
cornstarch for gravy (or whatever method you prefer) -about 2 TBs dissolved in about 1/4 cup of water
1 1/2 cups cornmeal (I used roughly ground cornmeal which takes longer, but you can use the fine ground stuff as well)
4 cups chicken broth + 2 cups water, more or less
parmesan or pecorino romano
Method:
Set crockpot to low (8 or 10 hours)
Add olive oil to bottom of crockpot and then add garlic and shallots
Add broth, red wine, herbs and tomato paste, stir
Heat butter on stovetop pan and sear all sides of roast, (salt and pepper roast)
Add roast to the crockpot
Mid-day, if you are able to come home, add mushrooms - I did this about 4 1/2 hours into cooking so that the mushrooms didn't get too tiny, omit this step if you can't come home and just add the mushrooms
For the thick-cut cornmeal, about an hour and a half prior to serving, I like to soak fora half hour, it seems to make cooking time go by faster without having to stand around and stir for quite as long.  Then, one hour prior to serving, set heat to medium and stir with whisk.  When bubbles start to form, turn down heat until the bubbles are minimal- continue stirring with a wooden spoon almost constantly.  When the mixture becomes tough- keep adding little bits of water at a time.  Continue cooking and stirring until coarseness of the grain goes away and it starts to pull in from the pan.  I think the thicker-cut cornmeal has a better texture, but you have to cook it long enough so that it's not grainy!
For the finer-cut cornmeal, similar instructions but it should only take 30-40 minutes
Season polenta with grated parm or romano or both, and invert onto a plate (or do it like I do, just serve out of the pot so I don't have to do another dish!)
When meat is done, remove from the crock pot and put on a plate
Slowly stir in cornstarch mixture with a whisk or spoon until desired thickness of gravy is formed.  I'm lucky, my mom was over this day and makes the best gravy ever, she did this part for me!  When done, return meat to crockpot.
Serve the meat and red wine mushroom gravy over the polenta, top with more grated cheese if you wish!
By the way…excuse my picture- I meant to take a beautiful shot of how the meat fell off the bone and demonstrate how tender it was…but then our stomachs got the better of us and we ate all the good stuff in no time.  This picture is the last we could salvage of the meat!  It still smelled divine though…