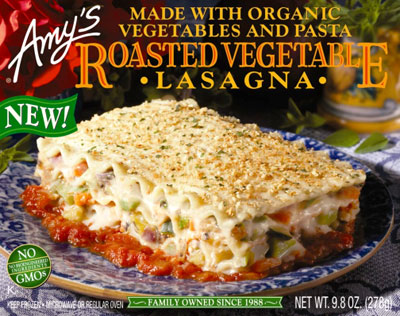 I was super-excited to receive some (lots) of frozen meals and treats to try from Amy's!   See, I had posted a picture from my pregnancy cravings part and in the process of getting their permission to post it, we had a nice little chat and I got some food!  Though I am now officially at week 14 and feeling better- I'm still fairly particular on what I'm in the mood to eat.  The things I've tried so far aren't necessarily the same things I'd normally go for first, but that's okay, it's fun!  Currently, I'm craving a good white cake or cupcakes- which is strange since I normally never want cake - I'd pass up a wedding cake any day for a brownie or carrot cake, but here I am, it's all I can think about.  Wedding cake style cupcakes is what I'm obsessing about- will have to figure something out after this!  But…uh…not healthy.  Amy's is!
Roasted Vegetable Lasagna (kosher, corn free, tree nut free, soy free): Delicious!  (not to be confused with their Garden Vegetable lasagna, which I have not tried but a vegetarian friend raves over that one)  It's got a fantastic blend of tomato sauce and cream sauce that melt together quite nicely with the roasted vegetables.  Since eating this one - I can't stop thinking about how I'd like another one asap.  Also, there's a nice flavorful crunch to finish it off from the bread crumbs on top. 
Mexican Casserole(Gluten-free, kosher, soy free, peanut free):  I love this one, however, my husband tends to steal it before I get to it.  That' s okay though since he's super-picky with his frozen meals and this is one of the few he'll eat without complaining about it!  The corn tortillas mixed with the sauce (in this case, a great chili flavor), reminds me of my favorite Mexican dish when done well: Chilaquiles.  Though it really isn't like chilaquiles, you can't beat the tortillas in the casserole!
Kid's Meal Baked Ziti(gluten/dairy/cholesterol/lactose free, kosher, vegan):  I've actually been buying this one for quite some time now.  It's funny because I think after the third time eating it I realized it was gluten free!  What a huge bonus- the noodles are fantastic, you really can't tell they are gluten-free at all.  It has a nice mild sauce for kids.  My son's favorite part is the apples, which he does not allow me to eat any of.  I love that there is broccoli on the plate - usually my son takes one bite of the broccoli and spits it out, but at least he keeps doing it, one day he'll eat it!  And the foccacia is good for me to dip up the leftover sauce.  Yes, we always end up sharing as he only seems to eat half of the ziti, which is fine by me.  Also, there is a nice little picture to color on on the inside of the box, as well as a temporary tattoo or little gift for the kid.  How cute! 
Baked Ziti Bowl(gluten/dairy/cholesterol/lactose free, vegan, tree nut free, kosher): Similar to the kids meal ziti but with the addition of peas.  It's a large bowl of ziti, very mild flavor. In this case, I also split this with my son and this time he ate plenty of peas, very nice! 
Mexican Tamale Pie(gluten/diary/cholesterol/soy/tree nut/lactose free, kosher, vegan, lower-fat): I've been buying this one forever.  It has a more mild sauce than the Mexican Casserole, actually, I wish I could get that sauce in this dish!  Anyway, I love the small portion size and the fact that it's only 150 calories.  I eat this on the days where I am literally eating  like a hog and just cannot stop myself.  I'm feeling like  I need a whole meal at 2:30 after a large lunch and can't figure out why I'm not full and must eat.  When a granola bar just won't do.  I'd never eat this for a meal, definitely not filling enough, but it tricks my stomach into thinking I've had more of a meal rather than just a snack when otherwise I could've been a huge piggy.  This has saved me many times.
Shepherd's Pie (gluten/dairy/cholesterol/lactose/tree nut/corn free, kosher, vegan):  Same deal as the Tamale Pie, it's a perfect stomach tricking snack when I want a meal at inappropriate times!  I won't lie, I prefer pub-style shepherd's pie with lamb or cottage pie with ground beef, but hey, this is a fantastic and healthy snack and it's served me well many times. 
Gluten-Free Chocolate Cake (gluten/dairy/cholesterol/lactose/tree nut/corn free, vegan, kosher):  First I'll say that I love reading the stories on the side of the boxes.  I read them all.  I'm kind of a sucker for these stories and hope they're all true!  This goes for whatever story comes on my food, if there's a story, I'm curious because then I feel like I know a little more about where the food came from.  Anyway, for me, this cake needed something, like strawberries, a little something moist and sweet to add to the flavor. 
Orange Cake (dairy/cholesterol/lactose/tree nut/corn/soy free, vegan, kosher):  This moist and heavy cake has a fantastic orange flavor with a little nuttiness to it.  As I write this, I'm planning on making some butter-cream frosting to top it off.  I know this will be snarfed up by my family very soon…or if it isn't, I will gobble it up myself, no problem!
Here's something really cool.  You know how when Oprah likes your product, you're pretty much gold?  Well, Oprahs' producers did a nice video about Amy's founders, click here for the link.  You get to meet Amy's parents who tell you how the concept all started (I've read the boxes, I already knew:) and you actually also get to meet Amy- who is now a beautiful young woman very proud of her parents' accomplisments.  Watching the video, it's pretty obvious why I trust this brand and since they came out in stores here; it has always been my number one frozen meal company!
I love how sensitive Amy's is to people's various food sensitivities as well as being mostly organic!  I feel like by feeding this to my family, I'm not going to stir-up any potential allergies by removing some of the major allergens in the diet beforehand.  My philosophy, a little bit of everything is fine.  Though I do not know if my son has food allergies yet, I wouldn't want to over-do the wheat and other allergens just in case, since my husband does have a wheat allergy (among many other food allergies).  Also, I always think of those stories of the kids whose parents thought they had autism, but changed their diets to gluten and casein free which basically solved their behavioral problems.  Okay, so maybe it's not that cut and dry, but I think of those kids when I read the ingredients in many of these Amy's items.  I've got lots more to review so expect a round II!!!
Disclosure: I received free product from Amy's