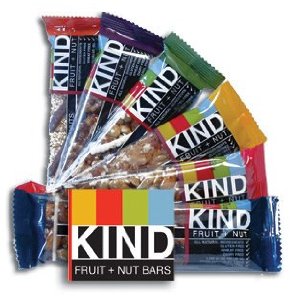 I'm sure this has been said before, thank you to the kind people at Kind for sending me these fantastic bars to try out! First of all, I've always loved Kind bars but seem to always buy the same two bars: Almond & Coconut and Fruit & Nut Delight. The ingredients in these bars are all natural, gluten free and quite simple- but the quality of the ingredients makes for BIG flavor! Every time I eat one of these bars (or half of a bar) as a snack, I feel fantastic - and not dragged down and gross like I do right now for eating too much white cheddar popcorn. Wish I would've had a Kind bar instead actually!
I'm a huge snacker- and I already passed that habit on to my almost three year old son! While I'm in charge- his snacks are healthy for the most part although I'll give him a cookie if it's all natural. Of course, my mom watches him too and it's like beating a dead horse trying to get her to feed him what I want him to eat. So, he mostly eats well!!! Also, when in school, the snacks are still terrible. I'm going to try to get involved at his preschool in August. Although…no nuts in schools so Kind bars are out:( Kind Healthy Snacks recently issued a press release with a study suggesting that not all snacking will cause you to gain weight (judging from my crazy snacking habits…I'm living proof).  To read about the study, where one group of people added 350 calories to their diets in the form of  two Kind bars, and their weights remained the same, click here.   Kind also takes their name quite literally - with Do the Kind Thing you can win up to $25,000 for your cause if that cause gets enough attention (you have to do kind stuff)!  Click on the link to see what you can do!   
Now, onto the review of the bars that I tried:
Walnut & Date: At only 150 calories, this is a perfect snack portion for me - it tastes like sweetened fresh walnuts - excellent!
Fruit & Nuts in Yogurt: Well, that adds up to 210 calories- but this is my new favorite bar!  The yogurt topping made me feel like I was eating bridge mix in a bar form.  Perfect for sweets cravings when I really just want to eat candy.  I need to go buy cases of these.
Cranberry Almond + Antioxidants:Hmmm, in theory I should like this but to me it was weird and the aftertaste (I'm assuming the antioxidants?) wasn't worth it - the only one I didn't like!
Mango Macadamia + Calcium:This was great!  It was to me the sweetest tasting of all, with a summery, coco-nutty flavor and the mango pieces inside tasted like perfectly ripe mangoes!  The mangoes I buy are never consistently good- but the mango in this bar tasted perfect.
Almond & Coconut: My old favorite and staple in my purse.  You can taste the almond, you can taste the coconut - nothing else- it's fantastic if you like almond and coconut!
Fruit & Nut Delight: A great basic mix of fruits and nuts where everything just blends in together nicely - although now I like it better slathered in the yogurt (bad me!)- but this is 180 calories compared to the 210 with the yogurt with 5g less sugar.  The healthier choice of the two…
Almond Walnut Macadamia + Protein:This was the least sweet of the bars that I tried with a tougher consistency.  It seemed heartier and more filling.  The flavor was mild but nice- I hardly detected the protein inside…a teensy bit.  With only 7g sugars, 10g of protein and 210 calories- this makes for  a great snack when you'd like something more filling than usual!
Disclosure: I received free product from Kind Healthy Snacks