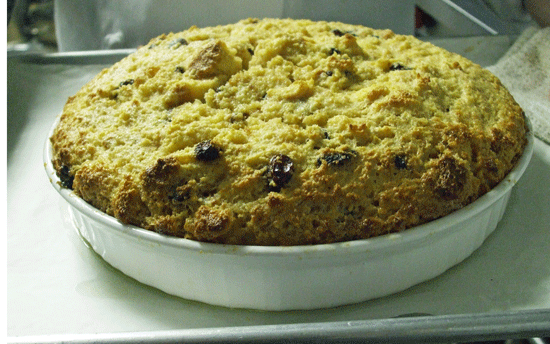 I'm very excited about this post!  It is a guest post from Jessica Raia-Long, a chef/owner of
The Noho Bistro
in Tampa, Florida.  When I look at the menu, it's just the kind of place I'd like to open if I were to ever start up a restaurant!  The bison chili with corn dippers sounds pretty mouthwatering to me right now.  Check out the awesome dinner entrees, and what is chocolate carrot cake?  I'd love to try it!   Anyway, this bread pudding recipe looks fantastic, I'm going to have to go buy some great crusty white bread just to purposely let it harden to make this!  Rum caramel sauce…yum!  Thank you Jessica!  Here it is:
Yesterday, I'm looking in the fridge for a new dessert for our dinner menu.  Pineapple, leftover bread, pastry cream, caramel sauce.  Oh, and Puerto Rican Rum brought back from the island two weeks ago.  Usually, as soon as I see leftover bread, I'm already reaching for the milk, eggs, whisky and raisins for a classic warm, decadent bread pudding with whisky sauce.  However, with the pineapple eyeing me in the fridge, I'm also thinking of upside-down cake!
If I have a large skillet and the proper ingredients I am all about making a dessert that requires the very exciting exercise of flipping a cake on to a plate! An "upside down cake" is certainly not new – skillet cakes date back centuries.  Tart Tatin, New England Plate Cake, German Skillet Pancakes to name a few.  These desserts were created because of the mother of invention – home cooks had skillets and pots to cook, sometimes loaf pans or cake pans.  But if they could caramelize the sugar over the heat, add fruit, top it with a lid and bake it – their dessert was finished, all in one pan.  Flipping it on to the plate made for a pretty presentation rather than scooping it out like a cobbler.
But back to my fetish of bread pudding.  I grabbed the bread and started cutting it into cubes, prepping my mouth for the bliss of whisky-soaked raisins and buttery-silky whisky sauce.  All of a sudden, I had a crystal-clear picture of the pineapple rings and brown sugar sauce drizzling DOWN the bread pudding, blending with buttery-silky sauce.  So I continued on the road to Bread Pudding with a detour down Upside-Down Cake Lane.  Voile!  Fresh pineapple rings, pecans and brown sugar on the bottom, soaked bread cube-raisin mix on top of that and in the oven it went.
For at least an hour, the aroma in the kitchen was fabulous.  (I'm singing that word!)  And once I thinned out some pastry cream with a bit of caramel sauce and drizzled in rum, the sauce was ready to serve.  I didn't immediately flip the bread pudding on to a plate because the soufflé look is too good to just throw away with a flip of the wrist.  The puffy, golden dessert – I could dig right into it with a fork and like a fondue skewer, dunk into the sauce.  But I did have some sense of self-discipline and conceded to the original, unique idea.  The pudding was flipped and there was my Pineapple Upside-Down Bread Pudding with Caramel-Rum Sauce. 
And my regular, Annie, on her weekly volunteer trip from the local humane society, jumped on the chance to have another one of my passionate desserts.  I think she just likes to her my "how-to" story.

Pineapple Upside Down Bread Pudding with Caramel Rum Sauce Serves 16

1 cup raisins
½ cup rum
5 T butter
½ cup (4 oz) packed brown sugar
4-5 slices fresh pineapple rings or 1 can pineapple rings, drained
8 cups cubed stale bread (8 oz) – brioche, challah or French bread
4 cups milk
1 ½ cup sugar
4 eggs
2 T vanilla
Several scrapes of nutmeg
3 T butter
 Method:
Combine raisins and rum; allow to stand 30 minutes or longer.
Melt the butter in a 10-in skillet or shallow casserole dish.  Sprinkle brown sugar over the butters and place the pineapple rings on top. 
Combine bread and milk in a large bowl.  Let stand 30 minutes.
Preheat oven to 350.  In a bowl, whisk together the sugar, eggs, vanilla, nutmeg and raisins with the soaking liquid.  Add the egg-raisin mixture to the bread mixture and fold together.
Carefully pour the bread mixture into the dish.  Bake until the pudding is firm and a knife inserted into the middle emerges clean.
Allow to cool about 5 minutes and then place a serving plate over the dish.  While keeping a firm grip on both, flip the dish over and place plate and cake on a rack.  Leave the pan on top for 5 minutes while the hot drippings fall back down over the cake.
 Caramel Rum Sauce:
7 ½ oz chopped caramel
½ cup sugar
1 large egg
¼ cup rum
 Method:
In a small bowl set over simmering water, whisk the sugar and egg together until warm to the touch and beginning to fluff.  Whisk in the caramel and then the rum.  Serve sauce warm over the pudding.