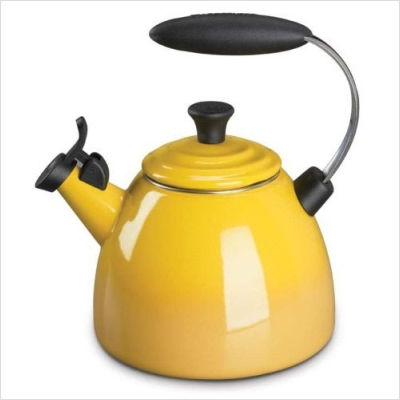 When the nice people over at barstools.com (a CSN store) asked me if I wanted to do a giveaway on one of their sites, I said absolutely!  They sell a ton of barstools on that site, but they also have an affiliate store that seemed like a perfect fit for anyone that reads my blog- cookware.com.  I love that there are so many items to choose from and shipping is either cheap or free, depending on what you spend, not the weight of the product.  After all, the giveaway is for Le Creuset and we all know Le Creuset is HEAVY!   I love Le Creuset products…who doesn't? 
Option 1) Le Creuset 1.5 Quart Tea Kettle in Dijon (shown above)  I LOVE this color, what a fun compliment to a kitchen!
Option 2) Le Creuset 3 Quart Sangria Pitcher in CherryI also LOVE sangria…drank too many of them while I was in Spain.  Salud!

Option 3) Le Creuset 4 Quart Medium Canister in Cherry Sweet!  I need a few of these to replace my old "stainless" canisters with fingerprints on them.  This looks much nicer.

 The many ways to enter: …for shipping in US and Canada

Comment below and tell me which you prefer
Follow me on Twitter @healthytasty
Tweet about this giveaway
Mention this on your blog
Mention this on your Facebook page (I'll just have to trust you:)
The winner will be chosen Thursday, March 4th via random.org
Thank you barstools.com, cookware.com and CSN!
VOTING IS NOW CLOSED.  Please check Egg Salad & a Winner post.