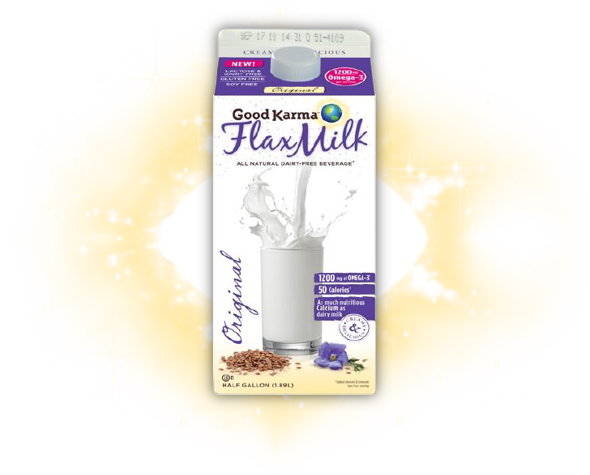 I must be doing something right if I got some Good Karma Flax Milk sent to my house.  Hee hee.  I love trying different milks.  Personally, I'm not much of a cow's milk drinker except I like half and half in my coffee.  I only put milk in cereals but when a recipe calls for milk I prefer experimenting with other products.  I have an 18 month old who hates milk and I've tried almond milk and coconut milk to see if she'd go there…nope.  So when I got the flax milk, I was excited that she may drink this instead all the while getting tons of Omega 3's.  Of course I immediately had to try them all the second they arrived.  There are three flavors - original, unsweetened, and vanilla.
Why do people make unsweetened?  Yes, I know why, but personally in order for me to get that down the hatchet I'd need some sort of natural sugar.  Obviously, this is not for me, why did I try this first?  Then I went to the original.  It's good!  It tastes surprisingly like milk.  I mean, of all the milks I've tried (soy, almond, hazelnut and coconut) this one is the closest to actual milk.  I think if I had an intolerance I'd probably buy this and just get used to it in my cereal.  It'd probably take a few bowls but I have never gotten used to anything other than actual milk in it.  When you have toddlers you have to get used to whole milk for awhile…or buy multiple milks that take up room in your fridge I guess.  But I do think this one is definitely a keeper if that day comes that I have an issue with milk or science proves how bad milk is for us all and that people shouldn't even drink it.  Haven't there been a few studies out like that already?  Rhetorical question - yes, I've read up on it quite a few times and just google it if you'd like to read about it yourself.  I'm sure you'll find plenty of articles from credible and non-credible sources alike!  I'm still practicing moderation over here with everything.
On to the last flavor and my personal favorite - Vanilla!  Yummy!  This stuff reminds me of a vanilla milkshake!  I mean, throw in some ice and put it in a blender- excellent.  So, I decided to trick E (my 18 month old who hates milk) and put it in a opaque cup for her to drink.  She loved it at first, then decided she didn't want anymore.  That's the same way she felt about chocolate almond milk.  No milk has passed her test - ever.  But this is the kind I would personally buy and put into smoothies.  It would be fun to experiment with this with different smoothies.  Makes me want to crack out my Vitamix and get experimenting.
With 1200 mg of Omega 3 per serving- I wish my kids would drink this every day!  If your kids like regular milk or any other kind- give this a shot.  Hmmm, maybe with some peer pressure and some other kids drinking it I could get my kids to drink it too.  This is when peer pressure is good.  Good Karma flax milk is also Gluten Free, Vegan and Allergen free.  The Unsweetened is only 25 calories per cup, but you should do a caloric splurge for the 60 calories per cup in the Original and Vanilla!
Ingredients in Original:  All Natural Flaxmilk (Filtered Water, Cold Pressed Flax Oil, Evaporated Cane Juice, Tricalcium Phosphate, Vanilla Extract, Canola Lecithin, Sea Salt, Guar Gum, Xanthan Gum, Carrageenan, Natural Flavor, Vitamin A Palmitate, Vitamin D2, Vitamin B12.
Disclosure: I did receive this for free - but I'm totally honest with you on my opinions:)