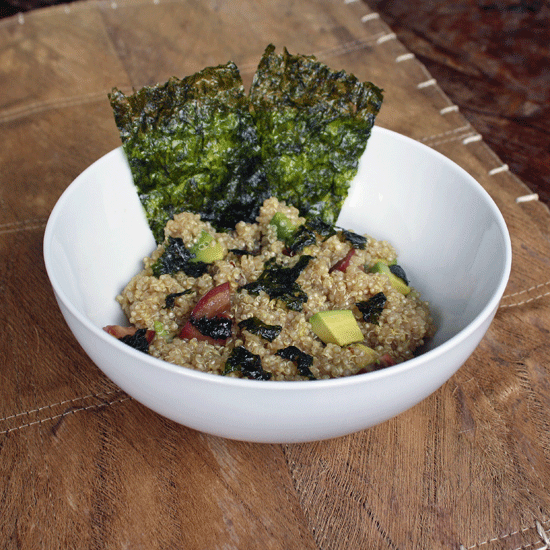 It's that time of year again for me to get inspired.  When it gets a little warmer and the sun comes out from behind the clouds, my kitchen gets some more use out of it!  I was lucky enough to get six bottles of goods from Saucy Mama - and it really is all sooooo good!  Really, it's all delicious.  Keep reading, there's going to be a giveaway.
I love sushi.  Love it.  But making sushi is still a bit terrifying - even though I have an amazing Japanese sister-in-law who will help me if I ask her (I just ask her to make sushi for family events - I'm sure she's sick of it).  So, I kinda figured I'd just make a more relatable sushi.  Vegetarian though since adding crab to this dish could be nasty…or delicious?  Because I used quinoa instead of rice- we're getting some more protein in there so the fish isn't so necessary!  This really is a yummy meal and something totally different than any quinoa dish I've had before.  And, this is so much faster and easier than making sushi.
Deconstructed Quinoa Sushi
Ingredients:
1 cup quinoa
1/2 cup Saucy Mama Pacific Rim Ginger Dressing
1 small avocado, diced
2 medium tomatoes (I used Kumato), diced  - cucumber could be used to be truer to sushi - but I thought tomato would be better for this
8 sheets crunchy seaweed snacks
Method:
Cook quinoa according to package instructions
Add Pacific Rim Ginger Dressing to the quinoa - continue to cook on low until sauce is absorbed - about 3 minutes
Remove from heat and cool- either room temperature or chilled
Right before serving, add avocado and tomato, stir
Sprinkle top with seaweed snacks prior to eating - don't wait too long to eat or the seaweed will lose its crunch!
Gotta tell you, this was fun to make and eat!  If you're serving to friends it may be cute to give everyone an individual little bowl of crunchy seaweed snacks to sprinkle on their own.  Good times.
Excellent news!  This sauce is part of the giveaway!  Along with Saucy Mama Tarragon Mustard (another recipe coming soon) and Saucy Mama Sweet Heat Marinade.
So, how do we win this delicious package?
Comment!  If you want another chance- tweet this (and clue me in @healthytasty) and comment again that you did it.  The deadline is Monday, May 23rd - but I believe they have extended it- unfortunately, I somehow deleted the email - so keep commenting until I announce a winner and you should be good:)