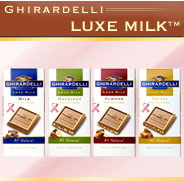 Through Foodbuzz's Tastemaker program, I got to try new Ghiradelli new all natural LUXE chocolates and Special K's new recipe with fiber.  I love getting food in the mail!!!  Since everything takes me awhile nowadays, I decided to write this with a baby on my lap - try something new.  She keeps pitching herself headfirst into the boppy I have on my lap as a "seatbelt."  Safety first!  It's okay, she has her head to the side each time so it's like she's using the airplane pull-out tray as a pillow- except the boppy really is a big soft pillow.  She likes it.
Anyway- I love love love chocolate.  I do prefer dark chocolate though and come to find that this Ghiradelli is super super milky.  It's a mild chocolate.  It comes in three flavors: almond, hazelnut and plain.  The added nuts are also pretty mild in these chocolates. They're not the uber-crunchy nutty types, but the mild, bit of texture amount added.  If you're a milk chocolate lover and not a big dark chocolate fan, you'd probably love these.  I love that they're all natural. 
I go through cereal phases.  One of those cereals I've had a phase with is Special K with red berries.  However, I don't like to buy it because there is practically zero fiber in it.  Well, that has changed now!  They even have a taste guarantee.  I'd say the light sugary sweet flavor is similar - but you just can't get rid of the nutty wheat flavor inside the cereal now that wasn't there before.  Also, it's a little crunchier and not as delicate.  Honestly, I did like it better before, but I'd be more likely to buy it now knowing that there's fiber in there to keep me satisfied for a little while longer.  Heck, I've already gone through one box and am ready to open another (lucky me got TWO boxes:).  Also, I have a pretty picky palate I think, so if you're a Special K fanatic, you may not even notice.  If you do, don't worry, they have that guarantee!
Disclosure: I received free product via Ghiradelli and Kellogg's
Picture courtesy of ghiradelli.com