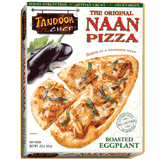 I started writing this the day after The Next Food Network Star finale…so the following sentence is a little dated:)  I thought it was very fitting that the other night while watching The Next Food Network Star- Aarti won after doing her mock show making, of all things, Naan pizza!  I loved watching Tom but I hear he's getting a show too- which is fantastic!  I normally don't watch the show but got caught up the last couple of weeks while sitting on my butt:)  Tandoor Chef has come out with their own frozen pre-made Naan pizzas for us to buy- you should be able to get them at Whole Foods now or soon.  They come in four varieties: Roasted Eggplant, Cilantro Pesto, Margherita, and Spinach and Paneer.  I have tested all four varieties and am excited to share with you!  Since having a baby- it has been really really hot and humid in Omaha, so if you fire up the oven the AC starts to over-work.  Also, she seems to react to either cheese or tomatoes- and so I have been pretty cautious on what I'm eating.  I can't figure it out though so after going awhile without these things, I slowly add them back in and her gassy fits still seem random. 
The first kind I tried was the Roasted Eggplant Naan Pizza.  It was exactly what I was in the mood for!  It has a little bit of sweetness from the roasted eggplant and just the right mix of spices.  This is the most different and my favorite of the three that I tried.  In fact, I wish they would just sell a huge tray of roasted eggplant since the flavor from the topping was so yummy!  When my Whole Foods gets these in, I'm buying a bunch!  The next one I tried was the Margherita pizza - I shared this with my mom.  She loved it but I thought it was a bit too garlicky for me- though it was good and tasty (remember, I am a bit of an Italian food snob, which includes pizza).  I tried this while still pregnant and so my stomach had been a bit more sensitive.  Great flavor, but for me, less garlic would be perfect.  Then another night I made the Cilantro one for my husband and me for dinner. It was awesome!  Not too garlicky, and actually, the cilantro was pretty mild.  I think if you are one of those cilantro-haters, you would still like this pizza.   The last variety I tried was the Spinach and Paneer.  I loved the paneer on there but like the margherita variety, this was too garlicky for me.  But the flavor was awesome!  If it had less garlic - I'd be eating this often since the paneer has a fantastic flavor and consistency for pizza.  I loved how it is just different enough but works.
I like the fact that these pizzas are small, all-natural and unique.  They're the perfect meal for two leaving plenty of room for sides and a dessert.
Disclosure: I received free product from Tandoor Chef