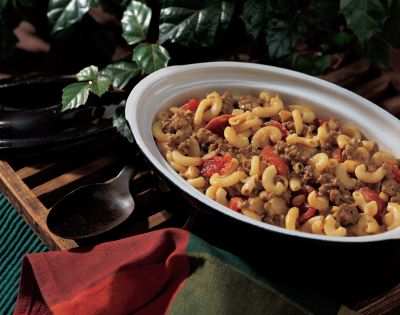 This is sad, three months later, I am finally writing something.  Here's why aside from the obvious.  Taking a picture - I wanted to take a picture of what I made but it was too time consuming because I wanted to make it look nice.  Stupid reason - so now I'll just borrow a shot from the folks at Red Gold! 
So I received this awesome package of a few different types of canned tomatoes to test out, a cookbook using their tomatoes, and a sweet toy truck that my son loves playing with.  And then every time I see it I feel guilty I haven't written this review yet!  Well, now I am and it's one less thing to feel guilty about…phew.  I've gotta tell you, I love the cookbook- it seems to me more  of a mom cookbook - a pregnant mom who is constantly exhausted and just wants to make something quick 'n easy.  Well, and also a new mom who is constantly exhausted…or just anyone who wants some easy recipes!   These recipes are also on their website. 
I only have made this one Cheeseburger Macaroni recipe over and over since it's relatively healthy and my son loves it.  The cooked/caramelized onion flavor adds a subtle flavor kick.  The mild flavor means my son loves it, while it's flavorful enough that my husband and I like it too- it's reminiscent of the old grade-school goulash.  You know…the spaghetti kind, not the Hungarian kind.  Or…just a much healthier boxed version:)  We have a good time cooking it together (he helps measure and add ingredients) - and it ended up being one of my cravings.  It was some of the only meat I craved while pregnant and one of the only meaty dishes my son will eat, and since he needs his protein to grow big and strong, I was happy to make this for him.  In fact, I think a craving is coming on as I am typing this.  Haven't made this in over a month!
Here's the original recipe and here's my adapted version:
Cheeseburger Macaroni
1 pound ground beef or bison or turkey
1/2 chopped onion
1 14.5oz can Red Gold diced tomatoes
1 cup quinoa pasta veggie curls [gluten free]  (fun colored curls entice my 3 year old son)
2 cups shredded mild cheddar
Method:
Cook onion over medium heat until clear
Add meat until cooked- drain if fatty
Add tomatoes and 1 cup water, boil
Add veggie curls and bring to a boil
Cook until pasta is done, add cheese, mix and serve
 Disclosure: I received free product from Red Gold Tomatoes