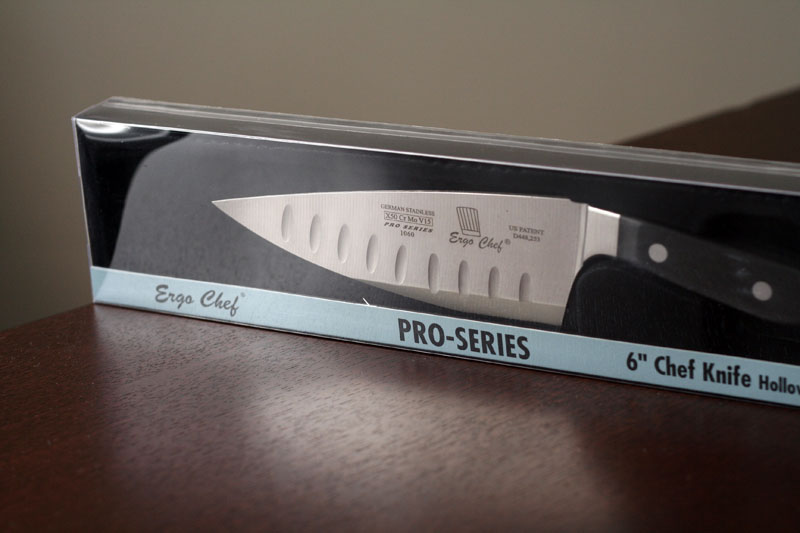 Hmmm…  What do I want for my kitchen?  Shall I pick from some dutch ovens?  Perhaps a nice Le Creuset piece?  Well, CSN stores have allowed me to do a giveaway or a review - and this time I decided to be less selfish and do another giveaway!  Don't get too excited though since I'll do a review next time:)  I figure some people may be getting sick of baby talk- though I could actually blog about that every day…if I had time that is, which I don't!  Now, the next question was, what do people want?  I ALWAYS want sharp knives - I have some nice knives at home but you'd never know it since they're always dull.  We take them in to get them professionally sharpened but they still stink. 
Then I remembered - my blogging buddy Steph from stephchows!  She did a great review from cookware.com on their Ergo Chef Knife and I really wanted one.  Well- instead of me getting one, a lucky reader'll get one instead.  Click here to check out the knife and here to check out Steph's review.  The photo above is courtesy of stephchows as well- thanks Steph, didn't think you'd mind if I used it!  I messed around with it but no matter what I do it remains large.  I type fast but the darn pictures take forever so I gave up.  Eh.  If you'd rather have a 9 inch carving knife  instead of the 6 inch chef's knife, that's okay too- it's really your choice. 
How to win? 
Comment
Tweet the giveway with a link to this url, then comment so I know you did it (and to add another entry).
Share the url on your Facebook page and then comment so I know you did it (ditto).
If you have a blog- you can link to this page and then comment as well. 
Good luck!  I'm thinking about commenting on it myself.  Hmm, that's probably not ethical.  The winner will be picked via random.org next Monday, September 20th.
UPDATE:  And the winner is… Mariko!  Random.org picked #4 and that's you- congrats:)