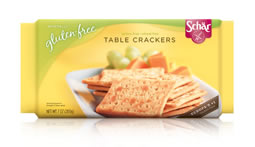 This guest review comes from my friend Megan, who is also pregnant and has Celiac Disease (if you're new to this blog, I do not have celiac disease but my husband is allergic to wheat so I like to have a variety of foods at my house).  Schar was nice enough to send me a fantastic variety of their products - and I thought it would be fun if Megan, coming from a different perspective than myself, could share her experience with us as well!   I love it!  I think it's an entertaining review and her personal experiences with the gluten-free products out there may help some of you from wasting your money on certain products!  I'll give my two cents on the bottom of some of the same products that I have tried.  Oh!  This is Part 1 of the review, more to come with Schar:)
Chocolate Sandwich Cremes
I have never been a huge fan of packaged chocolate cookies so this one probably isn't the fairest review. I felt a little devoid of chocolate flavor. The chocolate crème center was rich and added another level of yumminess but I have to say that there probably wasn't enough crème to make me feel like this was a treat. Probably not what I would grab if looking for a chocolate fix. I like that they come two to a package though. I never get through packaged gluten free treats before they go stale. This way if you grab one once a week or so you won't compromise the whole box.
Hamburger Buns
Okay so me and hamburger buns haven't gotten along since I went gluten free last year. I've tried two store bought varieties – Whole Foods GF Bakehouse and Kinnickinick.  Kinnickinick was terrible – fell apart all over the place, terrible texture – overall very disappointing. Especially when you shell out almost $6 for 4. Whole Foods makes a great product but I think I just about fell over when I read the nutrition panel. At 330 calories and 10 grams of fat, with butter as the 4th ingredient, I knew I had not met my match made in sandwich heaven. Really? 330 calories for a bun? Really?! The gluten free world is sometimes so deceiving.
I've also tried making buns with my gluten free bread recipe (an adaptation of Cinnamon Quill's vegan bread) with moderate success but without a great baking pan/ring it is tough to get a uniform shape and I don't always have time to make a batch of bread and buns every few weeks so I need something with a convenience factor.
That brings me to the Schar buns. The bun – at an acceptable 150 calories – that toasts nicely (I've yet to meet a gluten free bread, bun or wrap that doesn't need a torch of heat to make it edible – okay Udi's bread is close, but still not perfect) and gives me exactly what I am looking for – a sensible, moderately nutritious, convenient alternative for a hamburger, salmon burger, grilled chicken, etc. I am also going to try bringing it to a restaurant so that I can (gasp) actually eat a something with carbs at a meal other than my home! For my family that loves to grill out for all occasions a suitable bun is a must and this one fits the bill!
Pasta
I used the pasta in a new pasta salad recipe and was very pleased with how it turns out. This may be the closest to white, wheat based pasta that I have tried yet. I was glad to see that I didn't need to add extra salt, something that I have had to do to some of the brown rice pasta dishes I have done. Who would've thought that wheat pasta was really that flavorful? The texture was tender and held up well –it didn't fall apart when tossed with the veggies and dressing! I can't say I would use it to replace my brown rice tinkayda pasta, because it doesn't have quite the nutrient value that I am looking for in a pasta, but for a pot luck or for a dinner gathering I wouldn't hesitate to use the Schar pasta brand again.
Table Crackers
So on a whim the other night I was searching my house for protein, after arriving at a pot luck 4thof July dinner only to find they weren't grilling as I assumed but instead bought fried chicken. Bummer. My dinner consisted of the pasta salad I brought and fruit (okay let's ignore the fact that I stopped at the local ice cream joint on the way home). Let's also ignore the flip my stomach did when I noticed that my serving spoon (for my adequately marked "Gluten Free Pasta Salad" – there was the possibility of two other Celiacs being there also) had unfortunately found its way into the glutenful pasta salad that was right next to it. Dang! The spoon now residing in my salad bowl was contaminated. I learned my lesson – set the gluten free dish away from other similar dishes when in a pot luck setting. I scooped my salad with a clean spoon and hoped that I wouldn't feel the effects of that move the following day.
So needless to say, by 9 pm I was in serious need of some protein – being prego will do that to a person. I grabbed a can of tuna and whipped up a tuna salad with egg, celery and capers (with Penzey's Florida Pepper – my new fave). I was planning on just digging in because I wasn't in the mood for bread. But then I remembered I hadn't tried the Schar Table crackers that Ann so graciously shared with me. Perfect! Ignoring the fact that they were completely broken when shipped, I took some pieces and scooped up the tuna salad. I was extremely pleased with the crunch – just enough without being stale tasting. While they on their own didn't have much outstanding flavor – a little buttery finish, they were a perfect complement to the tuna salad. I could picture pairing well with a variety of cheeses – not sure if a 2 x 4 inch cracker is really ideal for cheese pairing, but considering the alternatives I've tried (Mary's Gone Crackers, Nut Thins & Glutino) I would definitely choose the Schar cracker as the most versatile. I loved Mary's before I got pregnant and then in the first trimester – desperate for a portable carb that could cure a queasy stomach – I picked up the Herb variety. The flavor just about sent me over the edge with nausea. Since then I haven't had the courage to try them again! Overall I was very happy with the cracker. Packaging into smaller portions would be nice for traveling, dinner parties etc, but overall a great choice.
Chocolate Sandwich Crèmes (with white filling)
In the summer I love to make an ooey gooey Peanut Buster Bar dessert with an Oreo crust, ice cream, fudge , caramel and peanut topping. Okay so the nuts are good for you right? It's delicious – quite the treat once or twice a summer! Since I went gluten free last July I haven't made this so when I noticed the box of Schar Sandwich Cremes in my stash I immediately thought of this dessert – perfect! We had a dinner party to go to – I was assigned dessert – which always works because that way I can make sure I can eat it! I opened the cookies and decided I better try one on its own first to get a proper review. It was okay – again – not a packaged cookie fan. The thing I noted immediately was the smooth texture – as a straight up sub for oreos this doesn't quite cut it. It didn't have that crumb that one associates with an oreo. I missed the bumpy exterior and overall wasn't really satisfied. As I crushed the remaining cookies, I was reminiscing about the quantity. It's bad enough to note the pricing on some gluten free items, but worse when you really evaluate what you are getting for that $5 box of cookies. My recipe called for an entire package of oreos – I compared the ounces and I was well over half short because of the small quantity in the Schar package. Looks like I would be halving the dessert recipe! In a pinch this cookie worked as a sub for the oreo crust. However, the lack of a tender crumb did affect the ease that one could use a fork and break off a piece of the crust. The butter, combined with the Schar cookies created quite the solid piece of crust – very difficult to break apart with a fork. Probably nearly impossible with a plastic fork in a picnic setting. So that was a little disappointing. I used the correct ratio of oreo to butter in the original recipe crust but I think next time I would opt for less butter in hopes the crust wouldn't take such a solid form.
Fantastic information!  My comments on the products?  I typically don't buy pre-packaged cookies either, so the Chocolate Sandwich Cookies aren't my thing - maybe they tasted a little bitter?  Not sure, but I'm pretty sure it has to do with the fact I just wouldn't buy them normally anyway.  However, I have bought the Hazelnut Wafers, which is the type of thing that I do typically buy and then gorge on.  The Schar brand ones had a similar effect so I haven't bought them in awhile since I know I won't be able to stop!  I have yet to try the Schar pasta and I didn't keep any hamburger buns to myself, so I couldn't comment, however, the pasta is made in Italy.  This means it has to be good or I'm pretty sure the Italians would have laughed them out of business- since Schar is the #1 selling gluten free brand in Europe.  I'm excited to try this pasta at some point!  I have tried the Table Crackers, and yes, they had broken up, but the smooth taste and cracker crunch were still there.  I ate them one day when my stomach felt queasy and they helped tremendously!  I'm also going to agree with Megan on the different gluten free crackers I've tried - these are by far the most versatile and the ones I'd bring to a party (and my favorite) - but it would be nice if they had them in smaller sizes for cheese trays.  You could serve them and nobody would even know they are gluten free.  Mary's Gone Crackers has a distinct flavor and are meant to be healthy- but one time I bought them they were totally burnt so I haven't gotten the nerve to buy any more either.  The nutrition in them is great but they're not near as versatile as the Schar ones.  Then there's the Chocolate Sandwich Cremes with white filling, or the oreo replacements.  I don't typically buy oreos or the natural counterparts (I've tried a gross natural substitute once)- and these really weren't bad!  I would eat them in ice cream!  But, since I don't typically eat this type of cookie anyway, I keep forgetting to put them in ice cream since it's not something I normally do - though first trimester it would've been nice to have since I craved this type of cookie in soft serve.  I wish I would've known Megan needed more for her baking and I would've given her the rest!  Then maybe the recipe may have turned out better. 
Well, there's lots more to say and more yummy products to tell you about, but for now, I think Megan's review is fantastic and I dont' want to make this too long- her opinion counts more than mine anyway since she is the target market.  If you haven't already, you can check out the Schar website for a great source of information on Celiac Disease and to see the fantastic product selection.  Overall, so far, I've been very impressed with the quality of this brand.  Actually, as I finish writing this first part of the Schar review, I'm dipping my Table Cracker bits into my crab salad for lunch - perfect!
Disclosure: I received free product from Schar.