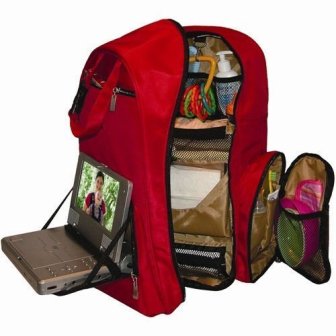 Oops!  In the time it took me to decide between the two diaper bags (open up yesterday's post if you don't know what I'm talking about), CSN sold out of the Mrs. Smith flowery one I ultimately decided on!  Instead, I'll be getting this awesome Okkatots Travel Baby Depot Bag!  See, I could not decide between the two because they both seem extremely functional and easy to organize and I'm done with too-small bags.  This one was more expensive so I am getting the difference on this one- which I'm very happy to do!  I ended up going with Mrs. Smith originally because it's flowery and since I'm pregnant with a girl this time, I figured it's time for me to be all girly.  With my boy everything was black or tan. 
This Okkatots bag got fantastic reviews and I guess my husband will be more likely to carry it when I need help!  Although- I recall the last time my shoulder just about falling off every time I carried my diaper bags, so this time, getting a backpack will be a delightful change of pace:)   Maybe I can give up on my over-sized purse for awhile since I seem to pack my son tons of snacks and toys everywhere I go and my shoulder still gets overwhelmed and sometimes it looks as though I've been squatting heavy weights but instead it's just the mark from my bag.  Know what I mean? 

  With my first, it was all about finding the cutest bag with good reviews.  But then I realized I was only paying attention to the good reviews and ignoring the bad, ie…too small!  So, this time, true functionality and space are my major goals.  Like I said in the last post, I cannot wait to review this!